You may be too young to remember that old show, but it was entertaining. The producers staged all sorts of strange situations and then filmed how people reacted. I often wondered if some people said no when asked for permission to air the film.
Today, stores and cities have cameras all over the place as a deterrent to crime. Cars have dash-cams that can come in handy to prove that an accident really wasn't the driver's fault. Cops also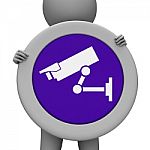 have dash cams and body cams. Then there are the cameras in the sky, along with the cameras in cell phones that seem to be in everyone's hands at all times.
I live out in the woods, and yet… A Google Earth photo of my neighbor's house showed our truck parked next to his apple tree. Had anyone been interested, they probably could have zoomed in and watched us climbing the ladders. Did some observer count how many apples we put in our buckets that day?  They could have.
In other words, at any given moment, you might be being filmed. It should, therefore, come as no surprise to learn that you're on camera when touring a home for sale.
And yet… agents report that buyers are uneasy when they know they're being watched. They're inhibited as much as they are when the homeowner is there in person, following them from room to room. They don't take the time to really look at the house and consider whether they and their belongings would be a good fit.
Naturally, if people are in a hurry to leave, it will put a damper on selling the house, so what can you do?
First, check the laws in your state to learn whether sellers are required to disclose the fact that cameras and/or audio recorders are in use.
Second, be aware that not everyone follows the law, so you and your buyers could be filmed or your words captured with or without notice.
That said… If you're the listing agent, discuss the situation with your sellers. Let them know that the cameras do intimidate people and could lead to abbreviated showings and no offers. One agent on Active Rain reported that after leaving a house with cameras, the discussion with her buyers was not about the house, but about how they felt about being filmed. They didn't really notice the house.
And… there are more dangers. One agent on Active Rain said "I don't want to be the one sued if someone decides that a Fair Housing violation has occurred because the sellers were watching via cameras." Another mentioned a lawsuit that came about because the buyers were unknowingly recorded saying that they loved the house and would pay full price. They did buy it and pay full price, then learned that their words had been recorded.
If security is your sellers' concern, remind them that with or without cameras, they should not leave cash, credit cards, bills, prescription drugs, or small objects of value within easy reach. In fact, cash, credit cards, and prescription drugs, should be in a safe or a locked cabinet.
Do let them know that in order to avoid lawsuits, you must disclose the existence of cameras or audio recorders.
If you're the buyer's agent, talk with them before touring any homes. Remind them that they're often on camera. It may be when they're driving, when they're walking down a city street,  when they browse or make a purchase in a store, or even when they're sunbathing in their own back yard. This is not that much different.
That said, do caution them against giving away their feelings on camera. As we all know, excess enthusiasm weakens bargaining power. Do also remind your buyers that what they say might be being recorded – whether or not it's legal and whether or not the listing agent knows about it. Save the discussion until you're back in the car.
Then, because your buyers may be reluctant to do so, take the lead in exploring the house. Open closet and cabinet doors for them. Turn on faucets to test the water pressure. Pull back the shower curtain to look at the condition of the bathtub. The more relaxed and thorough you are in looking things over, the more relaxed and thorough they'll be.
What else can you do?
Give your buyers a clipboard and checklist where they can write comments for later discussion. One agent on Active Rain suggested that buyers and agents can text each other while touring – just to make sure their comments are private. Envisioning that made me chuckle.
To be on the safe side, some brokerages are now asking buyers to sign a disclosure stating that they know they may be filmed or taped while touring homes.
QUOTES OF THE WEEK
"You can't assume any place you go is private because the means of surveillance are becoming so affordable and so invisible."
Howard Rheingold
~~~
"Study after study has shown that human behavior changes when we know we're being watched. Under observation, we act less free, which means we effectively *are* less free."
Edward Snowden
~~~
On the plus side…
Knowing there are cameras in place might lead to better parenting of those children who tend to run wild at showings and open houses. If the parents know their darlings might be caught misbehaving, and they might be held liable for the damage they do, they might keep a better eye on them.
Surveillance also might discourage showings to "bogus buyers" who are just there to scope out the value of the belongings, or to search for prescription drugs. In addition, cameras might add a layer of safety for agents. Every few years we hear of an agent being abducted and murdered after meeting a buyer at a vacant  house. Cameras might have prevented those deaths.
It appears that surveillance is here to stay, so we might as well all make the best of it.
Do you have good ideas on how to make the best of this situation? If so, please share them in the comments section…
And… if you haven't already opted in to get our weekly messages, click here.
Image courtesy of Stuart Miles @ freedigitalphotos.net